Sensory and Consumer Insight @ WUR & IFF
Sensory & Consumer Insights on Flavour and Fragrance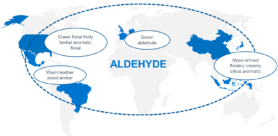 Fragrances are used in products for a variety of reasons to enhance the user experience. They can provide a pleasant odour and make the products more recognizable or distinct, as well as help, mask the smell of some ingredients. Some research shows that fragrances can satisfy emotional needs and communicate ideas such as cleanliness, freshness and softness, as well as help to alleviate stress and create well-being. Moreover, Mintel (global market research) reports that in general, fragrance is a top 5 purchasing factor for all products across the personal care and household categories around the world.
The Sensory Science and Eating behaviour group at WUR together with the Sensory & Consumer Insights team at International Flavors & Fragrances (IFF The Netherlands) are looking for a student to jointly work on an internship/thesis project related to the fragrances for fabric, home and personal care products.
You get the opportunity to generate insight from large global studies and represent the voice of the consumer within IFF and help make the world smell better.
More specifically, we have two topics:
TOPIC 1:
Assess cross-cultural differences in Drivers of Liking in terms of benefits/attributes/olfactive descriptors in different countries for a set
of fragrances.
TOPIC 2:
Data-based predictive models on product scent profile (e.g., Floral) from its ingredients profile.
Here the MSc student should link expert (i.e. perfumer) descriptions of ingredients and fragrances to the consumer's perception of product scent profiles.
The thesis/internship involves plenty of interaction with colleagues at IFF and gives you the opportunity to gain experience in a complex dynamic international organization.
Methods
You will effectively translate raw data into insights and actionable recommendations that support the development of fragrances. In addition, you will do literature research, oral presentation and write a scientific report.
Practical information
This topic is suitable for a student with an interest in sensory science and data science.
Start Date: As soon as possible
Period: by mutual consent
Location: WUR and IFF
Contact: Parvaneh.parvin@wur.nl; sanne.boesveldt@wur.nl