HUMAN-AI Symposium 2021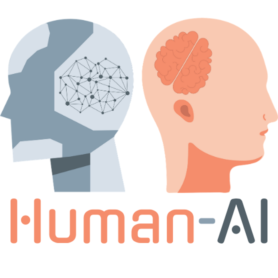 The HUMAN-AI alliance program has been up and running for more than one year now. One important achievement in the program so far is the establishment of collaborative HUMAN-AI research projects across the participating institutes. Last year, we funded three projects involving more than 15 researchers and students from Utrecht and Eindhoven and they are coming into full fruition this summer. To celebrate this milestone, the HUMAN-AI alliance team cordially invites you to the HUMAN-AI Symposium 2021, to be held online on June 30. The three HUMAN-AI research project teams will present their research results. In addition, the 2-h symposium will start with a keynote talk by Prof. dr. ir. Jan Broersen from Utrecht University and conclude with short pitches from the 4 new collaborative HUMAN-AI research projects funded this year.
A tentative agenda of the symposium on Wednesday, June 30, 2021 is as the following (in CEST):
15:00 – 15:05 Welcome
15:05 – 15:45 Keynote talk by Prof. dr. ir. Jan Broersen
15:45 – 16:35 Presentations of the research projects funded last year
16:35 – 16:50 Research pitches of the new projects funded this year
16:50 – 17:00 Closing (with drinks)
Please use this link to register for the event. We look forward to seeing you on June 30!
You can watch the recording of the event here.
More information about Prof. dr. ir. Jan Broersen and his talk below:
Bio: Jan Broersen is professor of logic in artificial intelligence at the Department of Philosophy and Religious Studies at Utrecht University. Before moving to theoretical philosophy he worked in Utrecht's Intelligent Systems group in computer science. His doctoral thesis was on modal logics for normative system verification. He studied mathematics and computer science at Delft University of Technology. His main research interests are in logics for agency and norms and in the philosophy of AI. In 2013 he was awarded an ERC project on the topic of Responsible Intelligent Systems (REINS). This project investigates how to endow AIs with a sense of responsibility, and how to actually verify if an AI has behaved or will behave responsibly. A second, NWO financed project, in cooperation with Utrecht's Freudenthal institute and the EUR, concerns "The Digital Turn in Epistemology" and aims at new epistemological theories and learning methods applying to (mathematical) knowledge that is embedded, embodied and extended through our modern day interactions with digital (mathematical) tools. A third notable NWO project has the title "Empowering Human Intentions through AI" in which he cooperates with Utrecht's psychology department.
Keynote title: Different kinds of autonomy and their interaction
Philosophers, AI researchers, mathematicians, computer scientists and psychologists all have different views on what autonomy is. I will look at some of these views, and will try to systematize some of the differences I see. This results in a classification with 4 or 5 different kinds of autonomy. I will look at some of the relations between the different kinds, in order to better understand how human autonomy and machine autonomy might interact. The talk is merely an exposition of some initial thoughts on what for me is a relatively new, but exciting topic.
More information about the three completed student projects:
1. Transitioning autonomy back to the car: How to encourage drivers to transition autonomy back to the car after required moments of manual driving?
Researchers: Chris Janssen (UU), Bastian Pfleging (TU/e), Peter Ruijten-Dodoiu (TU/e), Raymond Cuijpers (TU/e)
Sutdents: Myrna van den Berg (UU), Dick Louwhoff (TU/e), Benno Thijs (TU/e)
2. Affective SAR—— an assistant for children with generalized anxiety disorder
Researchers: Remco Veltkamp (UU), Supraja Sankaran (TU/e), Chao Zhang (UU)
Students: Laura Bijl (TU/e), Shaoya Ren (UU), Ning Fang (UU)
3. An exploration of the effects of forethought on trust and task performance.
Researchers: Emilia Barakova (TU/e), Maartje de Graaf (UU)
Students: Benthe Keetels (TU/e), Kelvin Koenders (UU)