Food Recommendation systems for people with olfactory dysfunction
Food Recommendation systems for people with olfactory dysfunction
a food that is enjoyable for people with a smell disorder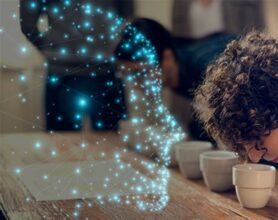 People suffering from Chemosensory loss may gain weight or lose weight since they don't get positive reinforcement from food anymore and therefore lose interest and appetite.  Given the continuously growing numbers of patients with persistent Chemosensory disorders due to Covid-19, it is imperative to provide these people with proper care and advice on dietary intake. Recent experimental results with people who have smell disorders suggest that offering personalized foods as a novel therapy may be an effective intervention for people with smell and taste dysfunctions of multiple etiologies. Our goal is to develop a food recommendation model that integrates both nutritional and user preference–related information.
The steps are as follows:
The steps for developing a system to improve the users' eating patterns are as follows:
A: assess the patient's eating behaviour
B: combine food datasets
C: Create personalize dietary interventions
Receives as input the user profile information and returns as output the recommended meal plan (using machine learning algorithms)
D: Create the End-User interface
Present the recommended foods
Give the user the possibility to swap an ingredient and therefore a changed recipe
Give the user the possibility to dislike or like the recommended food (use as feedback to update the model)
Methods
MSc students can choose all or one step (A, B, C, D) in this project. Common activities include literature research, online questionnaires, oral presentation and writing a scientific report.
Practical information
ECTS: 36 points
Period: by mutual consent
Location: WUR
Contact
Parvaneh.parvin@wur.nl; sanne.boesveldt@wur.nl
Study relevance
The project is suited for a student with a background or interest in Computer/Data Science and is preferable to sensory science and eating behaviour.