A harmonized food ontology to Improve the recommendations
A harmonized food ontology to Improve the recommendations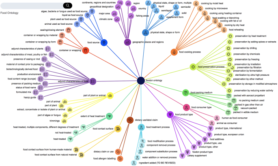 The World Health Organization identifies unhealthy diets as the important causing factor of chronic diseases. In this context, precision nutrition emerges as a new research field for providing tailored dietary advice to individuals according to their physical, physiological, and further personal information.
However, the deployment of various networks (e.g., Internet of Things), publicly available databases (e.g., NEVO2), and social media (e.g., Instagram and Twitter) generate massive amounts of multidisciplinary food data, making AI technology an indispensable tool for creating food recommendation systems (FRSs) to support health and nutrition applications. Nevertheless, due to the well-known data harmonization problem, these multi-source food data appear as information silos leading to the difficulty in fully exploiting these food data.
To this aim, the first step is to build a harmonized food knowledge graph (KG), containing not only food composition (e.g., nutrition) and sensory profile (e.g., taste, colour), but also linked to user profile (favourite flavour, cooking style, and health issues).
Currently, a number of food ontologies exist, each developed for a specific application scenario, but there are no links between them.  
To construct our harmonized Food KG (containing food–food and food-chemical, food-drug compound, and food-sensory relations), the existing ontologies should be linked by using various mapping, e.g. FoodOntoMap  and annotation tools, e.g., FoodVIZ, and, further map with the user preferences obtained through methods such as user profiling, food logging (tools already developed in WUR), and wearables.  
Methods
Utilize the available data and meaningful descriptive features to obtain better food representations. You will effectively annotate and link (using semantic methods and different tools) food databases. In addition, you will do literature research, oral presentation and write a scientific report.
Practical information
This topic is suitable for a student with an interest in data and semantic sciences.
Start Date: As soon as possible
Period: by mutual consent
Location: WUR
Contact: Parvaneh.parvin@wur.nl